See my interview with #vBrownbag recorded at #VMworld 2017 featuring my new book "Storage Design and Implementation in vSphere 6".
Oracle Real Application Clusters on VMware Virtual SAN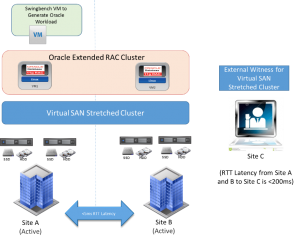 Oracle Real Application Clusters on VMware Virtual SAN VMware Virtual SAN VMware Virtual SAN is VMware's software-defined storage solution for hyper-converged infrastructure, a software-driven architecture that delivers tightly integrated computing, networking, and shared storage from a single virtualized x86 server. Virtual SAN delivers high performance, highly resilient shared storage by clustering server-attached flash devices and […] The post Oracle Real Application Clusters on VMware…Read More
---
With today's release of VMware vSphere 5.0 Update 1, included is an update to vmkfstools that enables administrators to manually reclaim deleted blocks on thin provisioned LUNs on VAAI capable storage arrays.
The new flag added to vmkfstools is "-y" and takes the percentage of the deleted blocks to reclaim as an argument.
You need to cd into the VMFS volume with the deleted blocks before you run the command.
For example:
# cd /vmfs/volumes/MyThinVol
# vmkfstools -y 70
This will reclaim 70% or the deleted blocks. Note that this works even though the UNMAP Primitive was disabled when you installed Update 1. It is time consuming though. My advice is to run this off-peak time and place the host in maintenance mode.
See VMware KB article 2014849 for details.